Sponsorship and successful projects
25th April 2022
Sponsorship and successful projects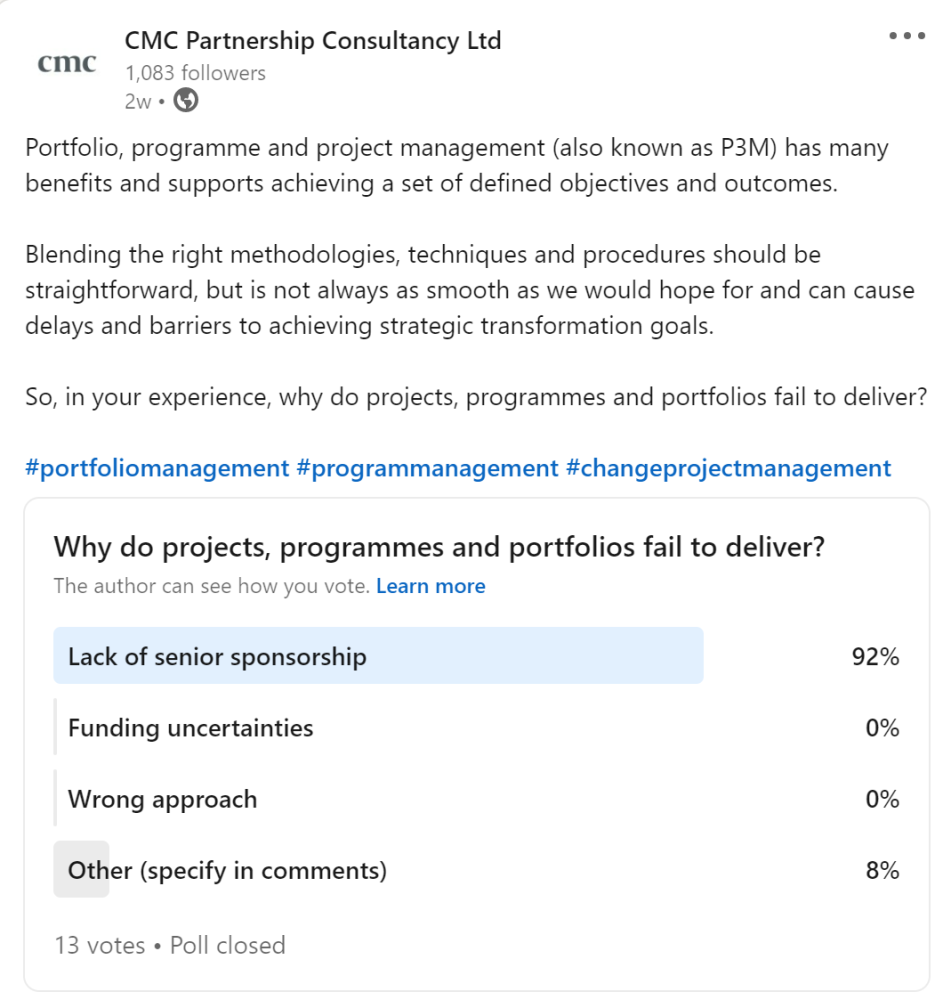 A recent LinkedIn poll conducted by CMC suggested that 92% of participants felt that a lack of senior sponsorship was the major cause of projects and programmes failing to deliver. Admittedly this is a small survey undertaken in an environment where P3M and change professionals (rather than senior managers) are likely to respond but the message is definitely not new. The Prosci change management methodology regards active and visible sponsorship as, 'the single greatest contributor to the success of a change initiative.' Indeed, successive studies supporting its Best Practices in Change Management report that 73% of projects with an extremely effective sponsor succeed compared to only 29% where sponsorship was very ineffective (Best Practices in Change Management – Prosci Benchmarking Report (11th Edition – link here).
But why is the sponsor so important? Quite simply, they are (or should be) the living embodiment of a project or change. They are its champion, its decision maker, its spokesperson, its persuader, its lead negotiator, its first adopter and its role model. The list, of course, goes on but without effective sponsorship projects are likely to lose direction and vision, lose support at Board level and amongst those affected, lose momentum and ultimately stall or fail. An organisation's choice of sponsor is therefore vital if its projects and changes are to succeed.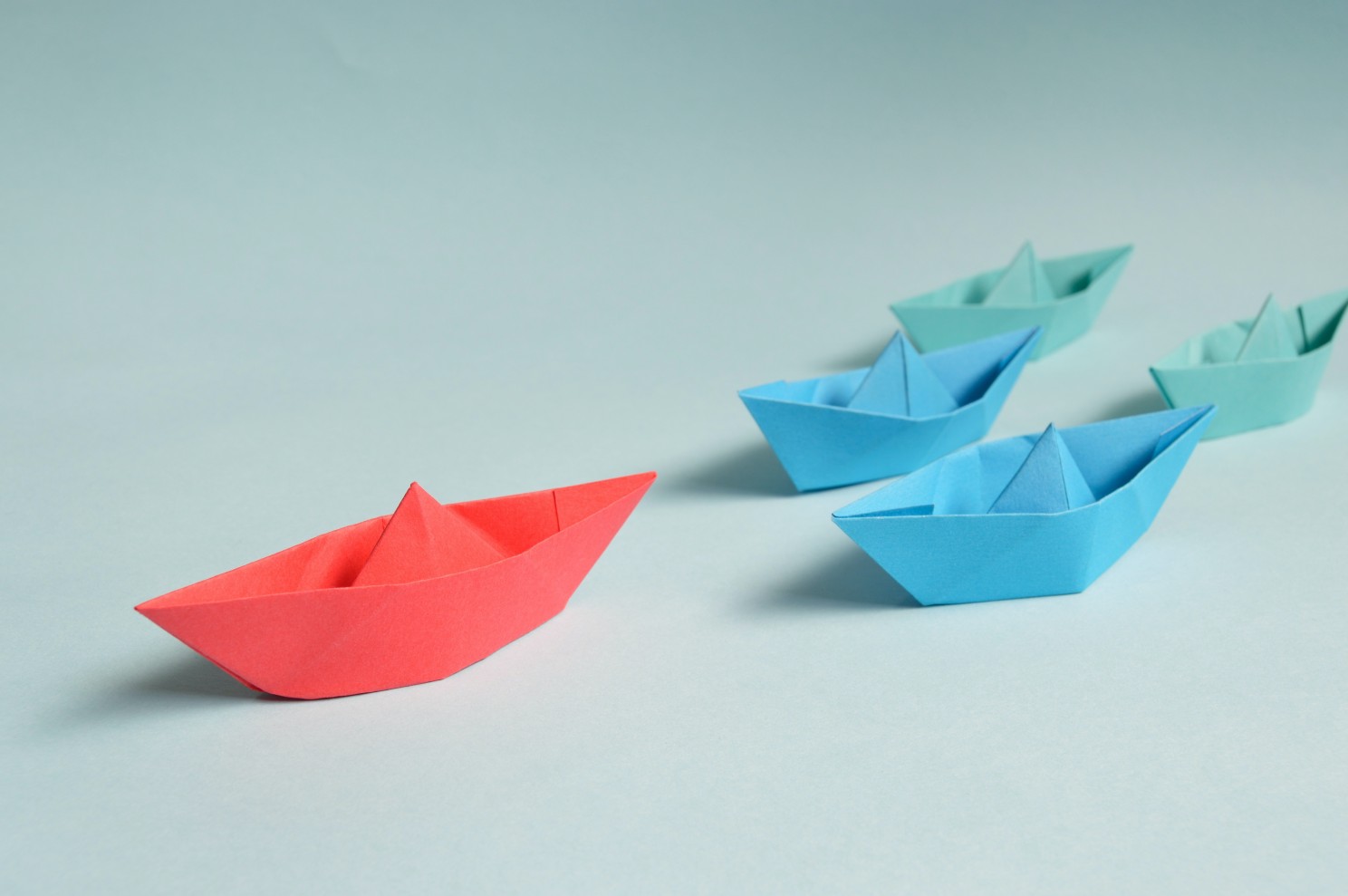 So, if they are so important, why can sponsors be a challenge? The Prosci Best Practices in Change Management studies suggest the key reasons are that a sponsor might lack the time or resources to effectively sponsor a project or change (55% of participants), that the sponsor may underestimate or misunderstand the people side of a project (36%) and that the sponsor's role and responsibility may have been delegated to someone else (29%). Taking each of these reasons in turn. A lack of time or resources indicates that either a sponsor is unwilling or unable to prioritise the project over other activities or that the sponsor is at the wrong level in the organisation. Underestimating the importance of the people impacted by a project is characteristic of a sponsor not understanding the fundamentals of change management. The delegation of responsibility by a sponsor to others may show a similar lack of understanding or a reluctance to engage directly with the project. The common factor for all of these challenges is that none of them need to be terminal for the project or change initiative; there is always something that the project team can do. The Prosci study shows that only 6% of participants reported a situation where sponsors did not support the proposed change, so sponsors generally do want a project to succeed.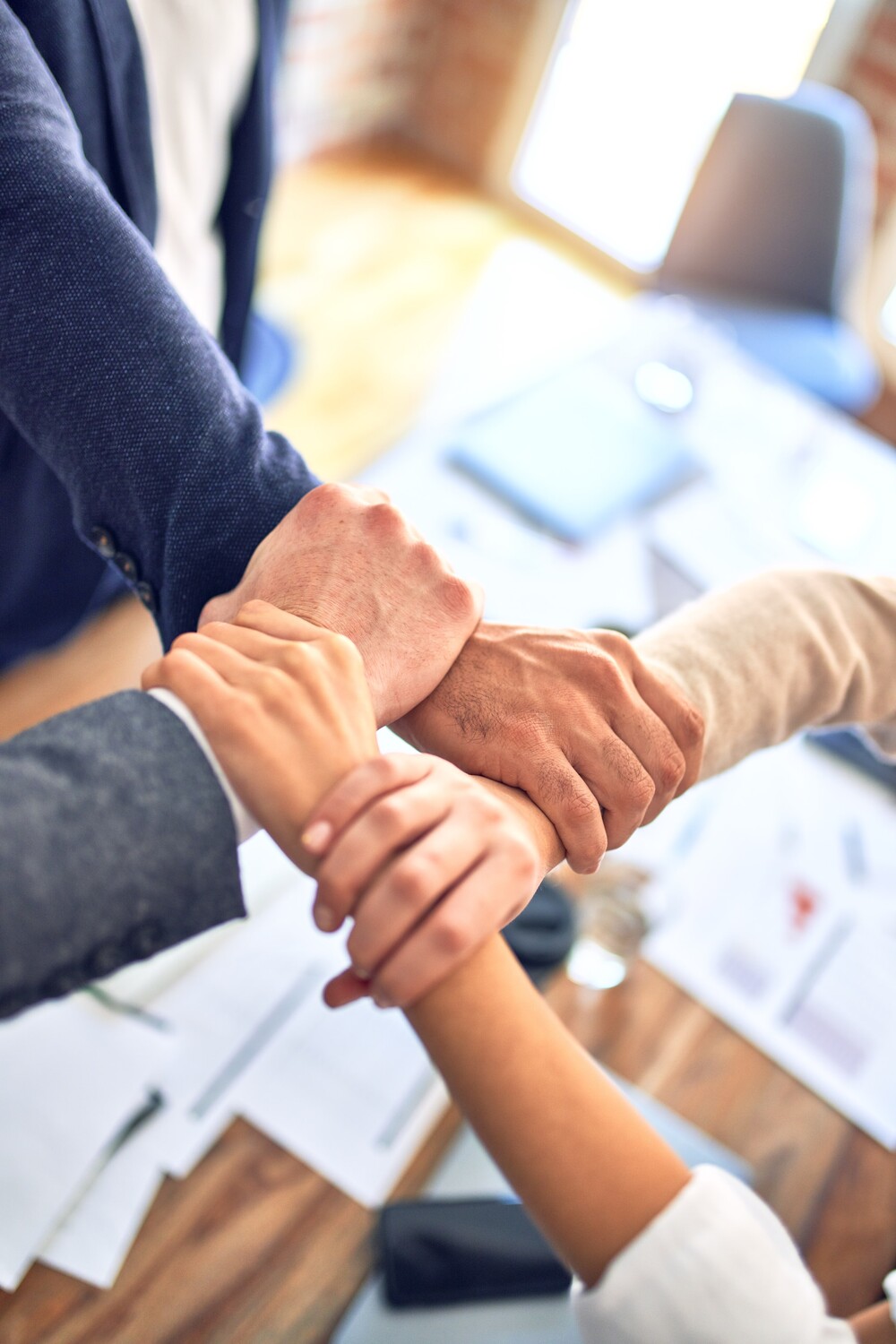 How can P3M and change management professionals help? A project or change team has a key role in avoiding ineffective sponsorship. Key activities or techniques available include:
1.     One to one communications – Open and honest face to face discussions with the sponsor, ideally in an informal setting, can build relationships, generate a shared vision for the project and increase trust allowing concerns and misconceptions to emerge and be resolved.
2.     Coaching – Formal or informal coaching and sharing best practice will help a sponsor understand their role in project and change management, what is expected of them and the risks of 'invisibility', delegating responsibility and underestimating what people need during change.
3.     Demonstrating the benefits – Explaining the strategic alignment and benefits of a project or change together with 'what's in it for them' to a sponsor can help to motivate greater engagement and prioritisation of their time and resources, particularly if the explanation is accompanied by case studies of successful and failed projects or changes.
4.     Setting up regular communications and feedback loops – Understanding a sponsor's objectives for a project and reporting progress against them will increase engagement. Similarly, creating opportunities for impacted groups to discuss their concerns directly with the sponsor will increase understanding and trust for both parties.
5.     Increasing involvement – Inviting sponsors to project design and change meetings, gathering their input and increasing the number of decisions they are asked to make can increase both their understanding and commitment.
6.     Appealing to higher authority – If activities to support an existing ineffective sponsor are having no impact or if the sponsor is at the wrong level of the organisation, then (as a last resort) the project or change team should feel empowered to ask a higher authority to intervene – either to help improve the sponsor's performance or to find a more suitable replacement.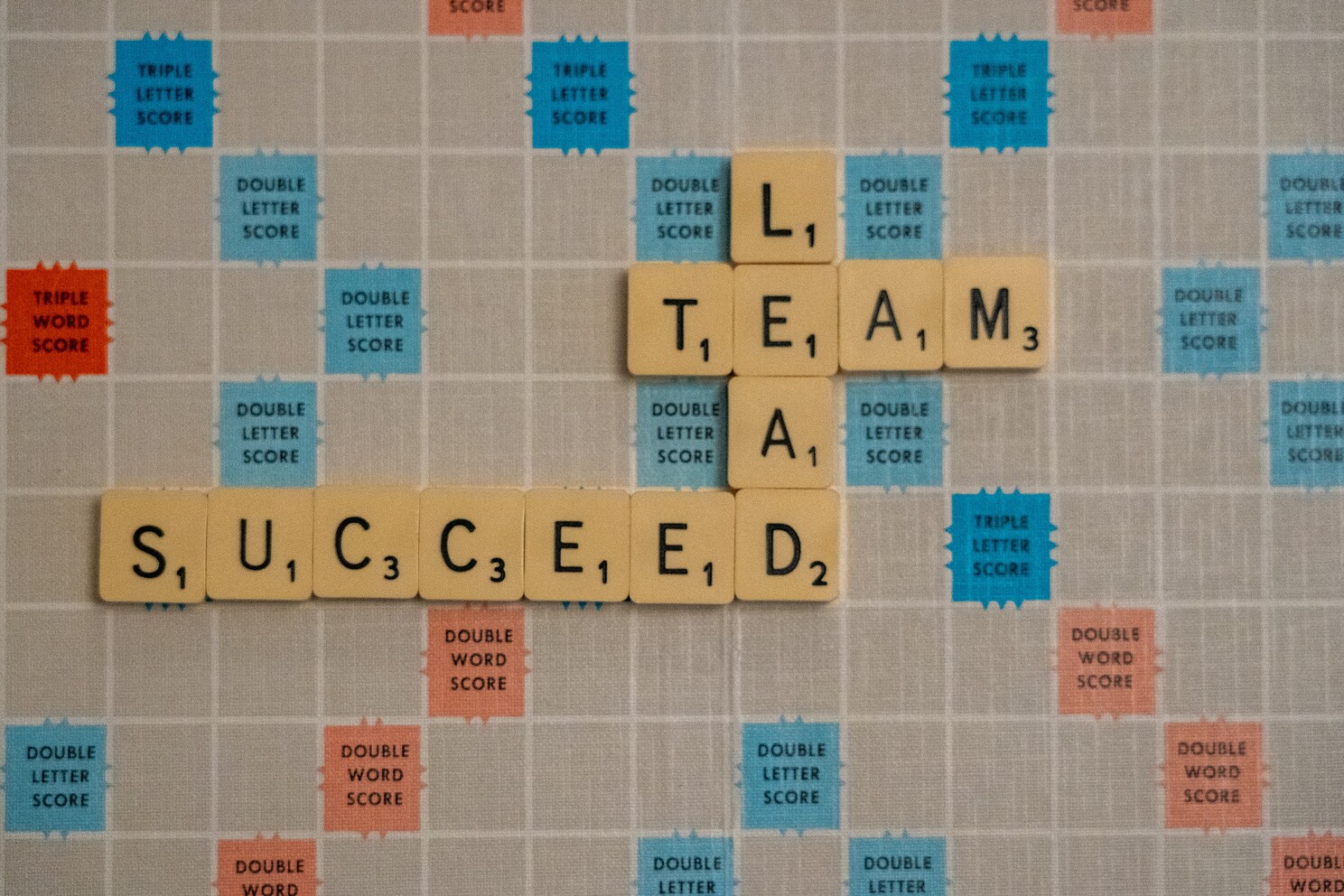 Effective senior sponsorship is recognised as a prime factor in the success of projects and change initiatives but that does not necessarily mean that poor sponsorship must lead to their failure. If project and business change managers act together with their sponsor to build mutual understanding and trust but are ready to take early corrective action, if required, then there is no reason that senior sponsorship (or the lack of it) should remain an issue.
by Mark Dalrymple-Smith, Principal Consultant at CMC Partnership Consultancy Ltd